Automatic Fly Ash Bricks Making Machine Belt Type
10 Bricks Model: ABMH: - 8 Ultra Belt System.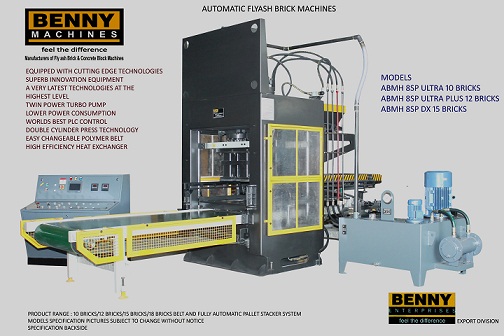 Model No: ABMH 8 SP ULTRA BELT SYSTEM.
Hydraulic Motor
15 H.P. & 1440 R.P.M. Flange Mounted
Conveyor System
Width: 600mm. Length: 23 Feet. 3 H.P. Motor with 1:25 Gear Box. Polymer Conveyor Belt.
System
Hydraulic Free Fill
Dimension
Height: 2700mm, Width: 1400mm, Length:3500mm.
Weight of Main Body
5500 kg ( 5.5 Tons )
Panel Control
World`s #1 Schneider Make PLC Control with Production Memory and Fault Alarm.
Guide Rod
50mm x 1100mm EN8 Grinded and Hard Chromed
Guide Bush
1st Quality Cast Iron with Derifiline Bearings
Free Fill Tank Capacity
60 Liters
Cycle Time
14-15 Seconds Power Pack High Pressure & Low Pressure
Power Pack
TANDUM Double Twin Pump "Denison" make. Capacity 280 Bars.
No: of Bricks per Cycle
10 nos. 230 x 110 x 75mm
Hydraulic Oil
System 68/45 liters.
Brick Eject Drive
Rubber Conveyor Belt: 4 plyx110mmx800x8000 fitted with Gear Box:1:4 ratio and 2 H.P. Motor.
Max Pressure
250 BAR
Main Pressing Plate Dimension
760x650x105 Single Solid Plate well machined with CNC
Pan Mixer: 500 Kg Capacity
20 H.P. Motor Foot type. 1440 RPM Frame Size: 160
Gear Box: Vertical No:9. Ratio: 1:40.
Carbon Tipped Blade Arms.
Equipped with Cutting Edge Technology
Superb Innovation Equipment
The Very Latest Technology at the highest level
Twin Power Turbo Pump
Lower Power Consumption
World`s Best PLC Control System
Double Cylinder Press Technology
Easy Changeable Conveyor Belt
High Efficiency Heat Exchanger
Model Specifications are subject to change without notice for Improvement.
Offering you a complete choice of products which include automatic fly ash brick making machine - fully automatic flyash brick machine pallet stacker system, fully automatic fly ash brick machine pallet stacker system and hydraulic fly ash brick making machine.