Automatic Concrete Bricks Machine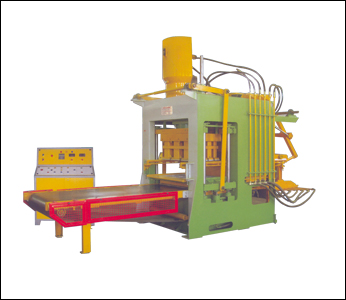 Concrete Bricks Machine
Offering you a complete choice of products which include Automatic Concrete Bricks Machine.
Providing you the best range of automatic type concrete bricks making machine, 1060 model bricks making machine, paver block making machine, 860 hollow block making machine and model 500 concrete bricks making machine with effective & timely delivery.
Concrete Bricks Technology is based on the principle of densification of a lean concrete mix to make a regular shaped, uniform, high performance masonry unit. Concrete Block Technology can be easily adapted to suit special needs of users by modifying design parameters such as mix proportion, water/cement ratio and type of production system
Better compaction ensured through eccentric weight vibration for consolidation of concrete.
Suitable for casting common concrete bricks and different size hollow bricks.

Benny Industries Concrete bricks machine Product Details
| | |
| --- | --- |
| Brick Type | Solid |
| Material | Concrete |
| Capacity? | 2000-2500 Blocks per hour |
| Usage/Application | Brick Making |
| Method | Hydraulic Pressure |
| Automation Grade | Fully Automatic |